Software Advice, the leading company for software research and consultation, have published their study on hotel management software usage. The purpose of this survey was to unveil what software features are most frequently used by hotel employees, what challenges do the latter face and what devices do they use for working with their hotel system. The research should be yet another useful resource for hotel software buyers to make well-informed smart decisions about the technology they employ in their properties.
We are glad that Clock Software's CEO, Krasimir Trapchev, was invited to comment the findings of the research and share his thoughts on the current state and the future of hotel management systems.
Key findings
Most used applications are reservation management, POS and CRM (guest management).
Housekeeping is most often accessed from mobile devices.
Mobile access is increasing, though desktop and laptops still remain the most used devices.
The top benefits of a hotel management system according to users are increased revenue and the opportunity to organize guest data and personalize the services.
38% of respondents plan to increase their spendings for software in 2015, while 55% plan to keep their investments the same. Among those who plan to invest more, 70% want software upgrades.
About a year ago, we wrote about another research by Software Advice, the Hotel Management Software BuyersView. The finding of this previous study unveiled a serious lag in technology adoption by hotels. In the meanwhile, a technological revolution started to earn pace and now we can see that not only new systems are available and become more powerful, but also hoteliers are more keen to invest in modern software and change the entire management concept in their properties.
Most used hotel software features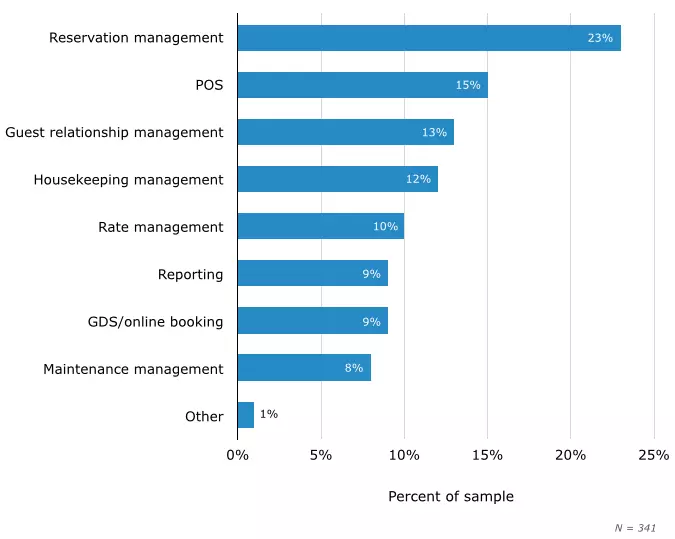 Logically, they correspond to the the most common tasks in a hotel - reservation management, restaurant point of sale (POS) and guest data management (CRM). The good news is that more and more hotel software users are ready to realize the need for and implement a system to enable them to provide new types of services like mobile check-in, self-service, paperless invoicing, BYOD functionality, digital room service, self-checkout and more advanced and personalized services.
Of course, hotel chains and bigger properties have to deal with more bookings on a daily basis and it is normal that these users look for automation of their most common tasks and biggest part of their workload. On the other hand, we could guess that smaller boutique or luxury hotels would focus more on features that help them improve the customer experience.
As for the hotel F&B outlets like hotel restaurants, bars or banquet halls, and especially for businesses that offer room service and organized events, the integration of the hotel POS with the hotel management system is what makes the difference for managers and staff as software users.
The mobile users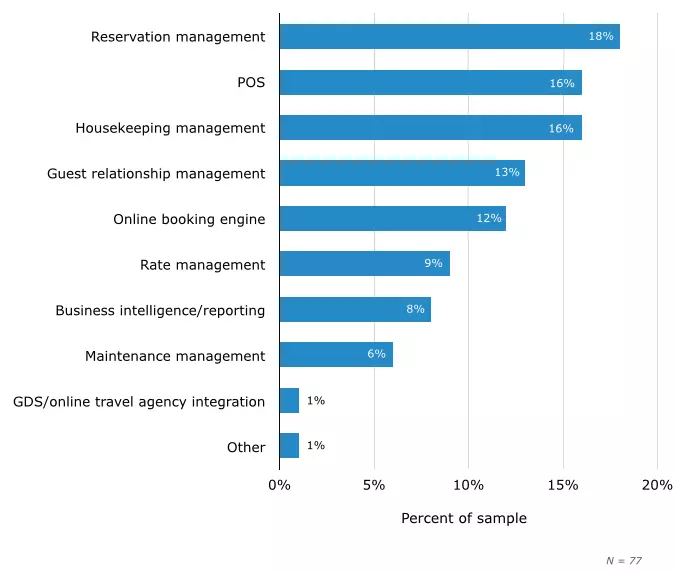 An interesting part of the research is where the author separated the respondents who use their hotel management system on mobile devices to compare with the overall results. Logically, housekeeping functionality appears in position 3 here, as many employees use a tablet to access the HMS while cleaning the rooms. It is more convenient and allows them to instantly update room statuses - information that is important for the reception desk to know which room is ready to accommodate guests and which still needs cleaning, inspection or maintenance. Also, housekeeping supervisors are able to inform everyone about issues found and trigger immediate actions.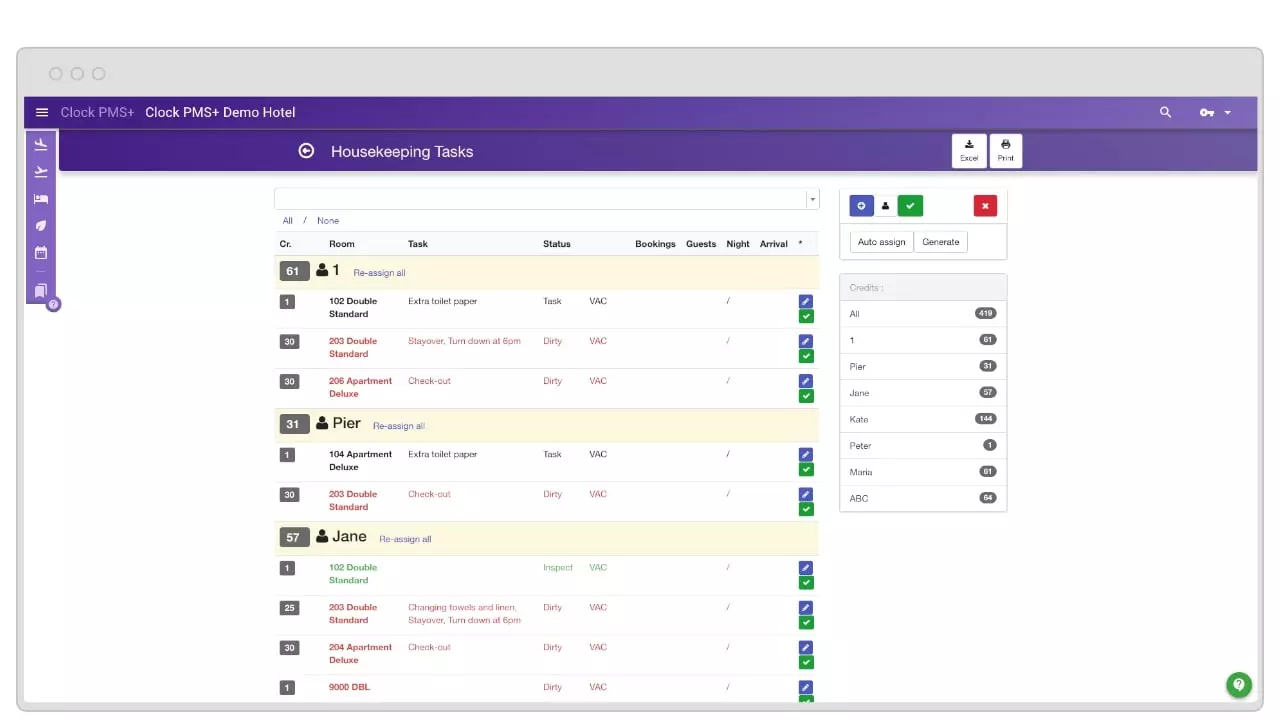 Another finding is that rate management and online booking engine appear higher in the chart. This confirms the benefits a mobile-friendly hotel PMS has for managerial staff like sales and revenue managers, who often have to complete tasks on the go and need to have access to the system at any moment to handle critical situation.
Desktop users are still a majority
First, we think this ratio is about to change soon. A desktop is still the better device for reception desks or reservation offices as it just doesn't make sense for these departments to use smaller screens for their daily work. However, mobile devices are a no brainer for front desk officers because they enable them to provide services everywhere in the property, like checking guests in from the lobby or while escorting them to their room. The same counts for restaurant staff and the housekeepers. As guest services change to adapt to the modern customer behaviour and hotel operations start to benefit from the capabilities of cloud based software, mobile devices might even dominate soon.
Top advantages of a hotel management system according to users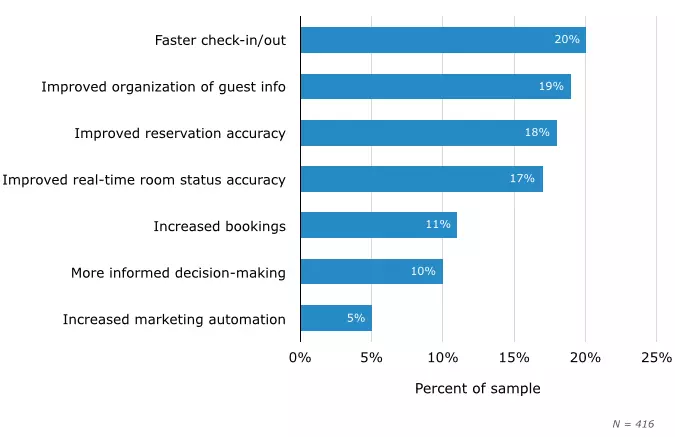 Emerging on top we see four benefits: faster check-in/ checkout (20 %), better organization of guest data (19 %), higher accuracy of reservations (18 %) and optimised correctness of real-time room status (17 %).
It is obvious how hotel management systems improve the daily operations in a property. And when all modules are available and integrated as it is in Clock PMS, the accuracy of reservations is closer to perfect. With one single inventory overbookings are avoided, while the integration of guest profiles and their uniqueness are a prerequisite for less manual errors whilst the booking process is even faster.
What we find surprising is the fact that rate management and marketing automation are missing from this chart, except the "Increased bookings" that might be reflecting the use of these features. The explanation for this could be that staff members responsible for sales and marketing are much fewer than other department members. Besides, the automation of routine operations like check-in/checkout and other services has more direct impact on the customer satisfaction which becomes the most important metric and on its turn could drive more bookings. However, we believe that these two features are extremely important and must be a part of any decent hotel management system.
Investment plans of hotel software users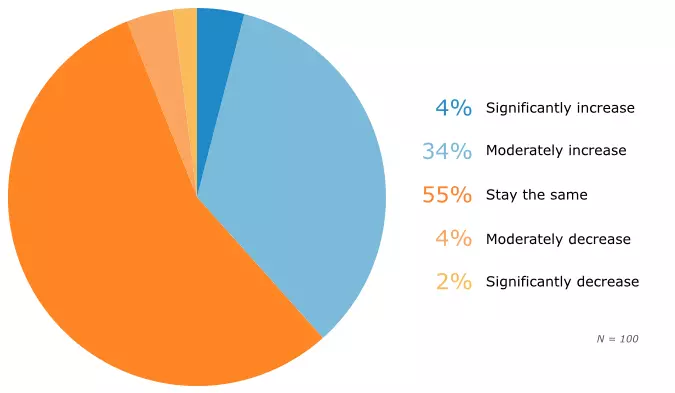 Asked about their investment plans for 2015, most of the respondents say that they will keep their investments the same as in 2014. Another 34% plan to moderately increase their spendings for hotel management software. This second part pointed out two major reasons for their decision - either have they benefited from their hotel software in terms of improved operations or increased revenue, or they have plans to upgrade their systems to get more functionality or accommodate business growth.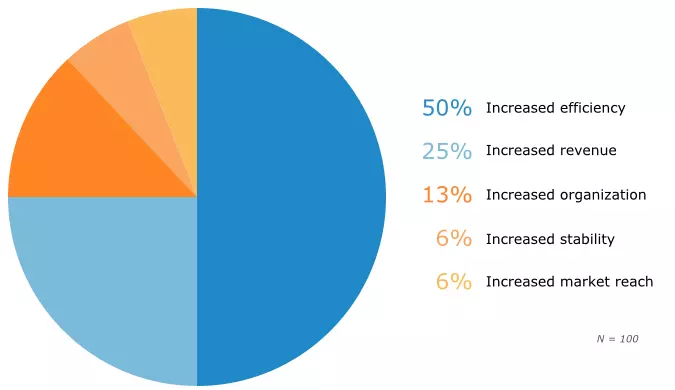 One point missing from the answers above is the optimisation of costs. By switching from a legacy to a cloud based hotel management system, a business could either reduce costs or get more for the same amount with the lack of engagement to take care of updates or administration as added value. The turning of long-term expenditures into operational costs is a benefit that can not be neglected, especially by independent hotels and even more - seasonal properties. Add to this the full compatibility with any available hardware and you can easily answer the question why cloud based hotel management systems are becoming more common and expected to grow by 20% through 2016.
Conclusion
Hotel management systems are designed to improve the working routines and the efficiency of operations in hotels and other accommodation providers. With the help of such software, properties are able to manage their reservations, streamline all processes, reduce the number of errors and achieve better coordination between different departments. With the increasing demand of modern hotel guests for more tech-enabled amenities and guest-facing technology, cloud based hotel systems are becoming more common as they are able to deliver more flexibility, integration and scalability of costs and functionality, whilst the need for administration and maintenance is eliminated. The research by Software Advice only proves that properties that use a hotel management system to run their business are witnessing serious improvements in their work and financial results alike.
You can find the full survey on Software Advice's website: Hotel Management Software UserView | 2015